Civil Engineer / Engineer Assistant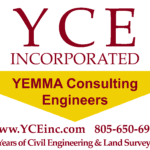 Website YCE, Inc.
Civil/Agricultural Engineering & Land Surveying 35+ yrs of exp
YCE, Inc. is a small business in Ventura, CA specializing in Civil / Agricultural Engineering and Land Surveying. Going strong for over 35 years working with farmers, ranchers, property owners and government agencies throughout the State.
Looking for a motivated person that wants to grow with the company and is available for immediate hire. Minimum of 3 years of experience in civil or agricultural engineering required. Must know AutoCAD Civil 3D. For the right person, management potential. Grading, Drainage, & Storm Water design experience a big plus. PE / RCE or EIT also a plus. Wages will depend on experience. Benefits include paid holidays, matching retirement plan & much more. YCE, Inc. is an Equal Opportunity Employer.
Send resume to: malvarez@yceinc.com