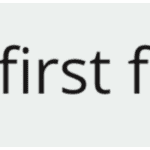 Are you passionate about helping businesses secure the funding they need to thrive and grow?
Do you excel in a fast-paced, yet flexible work environment that encourages self-motivation and teamwork? First Fund is seeking a committed and enthusiastic Funding Specialist to join our young, growth driven and dynamic team. If you're a self-starter and looking to dedicate yourself to helping clients navigate their funding experience, and want to join a young, vibrant team, we want to hear from you.
Position: Funding Specialist
Location: Remote or Based in Central, FL
About Us: First Fund is committed to helping our clients grow and scale their businesses and investments.  We strategize with our clients to leverage their personal credit to maximize their business funding, utilizing our relationships with the top lending institutions and banks in the United States. We're committed to empowering businesses by connecting them with the funding solutions they require to achieve their goals. As a Funding Specialist, you'll play a pivotal role in helping our clients secure the financial resources they need to succeed.
Responsibilities:
Guide clients through the funding process, ensuring they are well-informed and confident at every step.
Collaborate with clients to understand their funding requirements and business goals.
Connect clients with our banking relationship partners throughout the funding process.
Act as a reliable point of contact for clients, offering support and answering inquiries throughout the funding journey.
Using your training, come up with creative solutions  to navigate the clients' funding journey.
Independently manage your client load, ensuring their steady progress in the funding process.
Foster a friendly and supportive client relationship by maintaining clear communication.
Exhibit thoroughness in all interactions, ensuring accuracy and attention to detail.
Work as part of a team while enjoying the freedom of remote work.
Requirements:
A passion for helping businesses achieve their funding goals.
Quick thinker and able to multitask.
Self-starter mentality with the ability to work independently and as part of a team.
Tech-savviness to quickly adapt to our digital tools and systems.
Excellent English communication skills, both written and verbal.
Ability to establish rapport with clients and provide guidance in a clear and friendly manner.
Strong organizational skills to manage your client load and ensure timely communication.
No prior funding experience required – we will provide comprehensive training to equip you for success.
Familiar and comfortable with technology, web apps, and phone applications.
Perks:
Flexibility to work remotely, setting your own pace while ensuring work is accomplished.
Minimal micromanagement, allowing you to take ownership of your work and clients.
Position includes base salary + Generous bonus structure with no cap for growth.
Opportunity to join a supportive and collaborative team dedicated to achieving shared goals.
Personal growth and development through continuous learning in the funding industry.
Learn powerful business and funding skills.